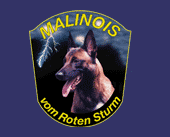 breeding dog:: ZOJA EXTRA TEMPERAMENT, aka ZARA
Status:: CMKU-BOM, DNA, AKC-coming soon, Hips A-normal, Elbows - Normal, Spondy-O,
Zoja, call name Zara is a beautiful young Malinois female. She is very social and outgoing. Zara has super food drive. Zara also loves to play with balls. She is crazy for them. Once Zara is completely of her babies we will start working Zara for her IGP work. Her personality is coming out and I love her every day a little more.
We are very excited that we added Zara into our breeding program. Her first litter is a big success. The puppies show lots of potential. They are very beautiful and show lots of drive. Zara is a superb mom as well.
Her linebreeding goes back to G'Bbber, Eik des Deux Pottois, Lucas des Deux Pottois, Elgos du Chemin des Planes, Carouche NVBK, - just to name a few!
​
You also will find Malinois kennel names like Lowenfels, von den boesen Buben, van Robbyfarm, von den Lausbuben, des Deux Pottois, Perle de Tourbiere, Joefarm, ..... ---with that said she is a perfect fit into our breeding program!
​