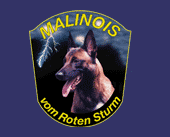 breeding dog:: ZOJA EXTRA TEMPERAMENT, aka ZARA
Status:: CMKU-BOM, DNA, AKC-coming soon, Hips A-normal, Elbows - Normal, Spondy-O,
Bred to Matapalo Asco!
Puppies expected end of January 2021!
Zoja, call name Zara is a beautiful young Malinois female. She is very social and outgoing. Zara has super food drive. She loves to collect Asco's balls on her morning walks, which Asco leaves out after his evening walk/playtime.
We are very excited that we added Zara into our breeding program.
Her linebreeding goes back to G'Bbber, Eik des Deux Pottois, Lucas des Deux Pottois, Elgos du Chemin des Planes, Carouche NVBK, - just to name a few!
​
You also will find Malinois kennel names like Lowenfels, von den boesen Buben, van Robbyfarm, von den Lausbuben, des Deux Pottois, Perle de Tourbiere, Joefarm, ..... ---with that said she is a perfect fit into our breeding program!
​
As Zara is here with us now we will start the work for her working dog titles.
​
​
​