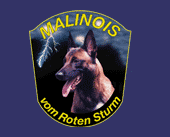 breeding dog:: ARON HERSHEL VOM ROTEN STURM
titles: in training for his title's
​
Aron is a beautiful muscular male.
Big dark head, with a beautiful dark mahagony pigment over his body.
Aron is a friendly enough dog but does not like his space to be invaded!
​
Aron is in training for his IGP title's.
Yannick and Aron having fun on and off the Schutzhund field.
Aron's food drive is a dream. Same goes for his play drive. He has a never-ending supply of drives.
In protection he easily can be triggered into aggression but switches easily back to prey. Aron has a monster grip on the sleeve!
​
Aron learns very quickly as well. He is a joy to work with.
​
​
Aron's pedigree is filled with excellent working dogs. His lines go back to Chilli Airport Hannover, Maho van de Berlex-Hoeve, Frits von Brunsbeker Land, Casper vom Further Moor, Da'Eder von der Brunnenstadt, Klemm vom Roten Falken and many other excellent working dogs!
​