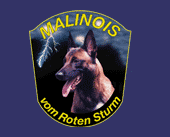 our past breeding males::
it was a pleasure to have them being part of our life
Matapalo Asco
Born in July 2018. Asco was a super nice Belgian Malinois. He had a superb temperament. Outgoing and friendly, but yet protected of mom. He was always ready to work. His tracking was a dream, so was his obedience. His bite work was powerful and to the point.
Gone way to soon my friend.
​
BH, IGP1, IGP@, IGP3
Jim vom Roten Merlin
Born in June 2010. Jim is a stunning looking Belgian Malinois Male. He is a strong male ..... friendly, high drive, very clear headed, strong protection and outstanding pedigree.
From November 6th, 2010 to October 23rd, 2019. You will be missed, my friend, but life on forever in your offspring!
Caraq vom Lowenfels
Born in June of 2001. Caraq was an ambassador of this amazing breed. He was a beautiful substantial male with the best temperament. His drives were over the top and the power in bite work was everywhere known. Caraq took Hardy 3x to the FMBB working dog World Championship. He won two times the North East Regional Championship. We loved Caraq for the dog he was and he will always be in our hearts.
PEDIGREE / WORKING DOG PAGE
Dock vom Roten Sturm
Born in March of 2004 out of Shiva Airport Hannover, ScH3, national competitor and Ando vom Roten Sturm, SchH3. Dock only needs a few words of who he was: "friendly, high drive, very clear headed, strong protection and outstanding temperament". He was the best guy to hang out with or go on trips with. So loyal and so cool. We never did breed him actually, but he still was a supercool dog. We sold him as a puppy and bought him back just before 2 years of age. Do to a crucial ligament tear we retired him out of the sport after his IPO 2 - freak accident during a seminar. He will be missed by us!
Ando Couer de Lion
Our very first born Malinois puppy (we changed our name after the first litter to Malinois vom Roten Sturm). Born in January 2001. Ando was our heart dog. He was 16 long years our true companion, protector, hero, babysitter. He was the smart one. He made sure that he became the best friend of our little girl, never to leave her side. He waited patiently for her to return from school and when the clock turned 3 pm he walked up to the door and looked at me to say "the bus is here, lets get the kids". Never worried with him around that someone could brake in or do harm to the children. He was very protective, but never harmed anyone, just put them into the wall until I said Ando its ok, its a friend. Than for that afternoon he turned into your best buddy. But only for that afternoon, or as long as your stay in our house. He is sorely missed and forever loved!
PEDIGREE / WORKING DOG PAGE
Athos vom Hexenmoor
"Athos" the dog of our Logo. He was one of the most beautiful Malinois to date I have layed my eye's on. He was only 65 to 70 pounds, but full of muscle and power. Athos was a very difficult dog and a true ALPHA dog. He was a one man dog, made into a family dog. He was super good with the kids (until Yannick became grown into his eyes) and he also was super good with people, unless you pissed him off .... . He could hold a Grutsch like no other. Athos was a very powerful dog in the bite work - to the point of scary! We only bred Athos one time and our little girl Odessa came into our lives.
PEDIGREE / WORKING DOG PAGE
Pando vom Lowenfels
Our very first Malinois. We bought Pando from Peter Engel back in the summer of 1990, over 30 years ago. He was the best. He had the greatest temperament. He was super nice in his work for Schutzhund. Our son Yannick learned walking on him. He may have not been the most beautiful from his appearance, but from his heart he was one of the kind. This is the Malinois who made people in the sport aware of what a Malinois can do on the Championship field in the US. His obedience was outstanding and his bite work was full of power and control. We never bred Pando, he left us early due to an accident. We missed him very much for many years.