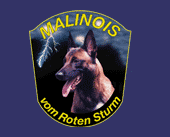 Jim vom Roten Merlin
Born in June 2010. Jim is a stunning looking Belgian Malinois Male. He is a strong male ..... friendly, high drive, very clear headed, strong protection and outstanding pedigree.
From November 6th, 2010 to October 23rd, 2019. You will be missed, my friend, but life on forever in your offspring!