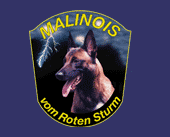 upcoming puppies:: UPCOMING LITTERS 2021
Zara Extra Temperament will be bred to Aik vom Heidlaender Wappen around Christmas of 2021
​
​
Eika vom Roten Sturm, IPO3 will be bred to
Monty Extra Temperament, aka Goose!
Early 2022!
BH, IPO3
​
will be bred to
​
"Goose"
Both parents are extremely good working dogs with high toy drive, high food drive, and are very strong in protection - with extreme speed of attacks in the engagement. They are very stable dogs of superb working quality.
​
This combination should produce dogs with commitment to the work with a ton of play drive and very high food drive, and they will be very fast. They will have right amount of willingness to work, and the hardness we desire to withstand pressure and fight.
​
"Goose" competed with time successfully on a National and International working dog events. They both traveled the USA and Europe for their working dog endeavor. They had the privilege to be on 4 World Championship teams. In 2016 Tim and Goose place # 11 out of a 140 dog teams at the FCI World Championship in Slovenia. He also was the 2017 New England Regional IPO Champion and multiple times this team took the 4th place at the AWMA National Championship. Goose is a stable dog with excellent temperament, very good looking and is very strong.
​
​
Eika is a powerful female. She is fast and determined with never ending drives. Eika has super strong protection. She is very fast in all speed exercises in obedience and has the ball drive of her mom. Eika is always happy to work. On a scale from 1 - 10 her work ethics is a 15. Eika is incredible loyal to her family. She could care lesser about strangers approaching her and if she does not like you, .... you will know it.
​
We are looking forward to this litter. We are expecting super nice working puppies. Extremely fast dogs...., very good looking dogs.... . This breeding goes all the way back to the famous G'Bibber (line-breeding 6 / 7), Elgos du Chemin des Plaines (line-breeding 5 / 5), G'Vitou (line-breeding 5 / 6), Cartouche (line-breeding 6 /6/), .... to just name a few!