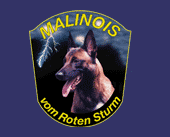 Luna Airport Hannover
BH, IPO1, IPO2, SchH3
HD-A, ED-0
Born in May 2010 out of Heli Airport Hannover, SchH3, Koerung (Chilli's mom). Luna is a high drive, ball driven female who is always ready to work. Her father is Casper vom Further Moor, a regional and national competitor and 2x Champion of the DVG Meisterschaft in Germany. Luna is a very spirited female with fantastic working ability. Her ball and food drive is insane!
Race vom Further Moor
BH, SchH1
HD-A, ED-0
Born in November 2010 out of Crazy vom Parchimer Land, IPO1 and DMC Koerung and Mecberger Chortoryiski, IPO3, FMBB World Champion 2010. Race is a working female with a ton of drive, full of life attitude!
BRED TO JIM VOM ROTEN MERLIN
Eika vom Roten Sturm
BH, IPO1, IPO2, IPO3
HD-A, ED-0
Born in February 2016 out of Race vom Further Moor, IPO1 and Jim vom Roten Merlin, SchH3, IPO3. In March of 2018 Eika received her IPO3. Eika has a ton of drive for the work and we are looking forward to her future.
BRED TO MAHO VAN DE BERLEX-HOEVE
Faye vom Roten Sturm
BH, IGP1
Born in March 2016 out of Chilli Airport Hannover, SchH3 and Jim vom Roten Merlin, SchH3. Faye is in training to receive her Schutzhund titles. Faye is a very strong and fast girl, just like her mom. She has the right type of attitude and nobody pushes her around! Faye is friendly enough, but does not need ton's of people loving on her. Faye enjoy's living with Lori and Chris and has them wrapped around her little fingers. Dutch Shepherd girl "Zena" is her partner in crime. We are looking forward to a great future for Lori and Faye.
Chilli Airport Hannover - now retired out of the breeding program -
BH, SchH3, IPO3
HD-A, ED-0
Born in November 2007 out of Heli Airport Hnnover, SchH3, Koerung and Fox vom schellen Fuchs IPO3, Koerung. Chilli is a vey spireited female with crazy and explosive drives. She is very powerful in protection. The first IPO 3 title was obtained with 100-98-98 +296 points out of 300 available. Chilli participated in local, national and international events. Her best score ever was in 2013 with a score of 299 points - 100-99-99 -.
Chilli received twice the helpers choice award on National Championships - 2013 AWMA Nationals and 2014 AWDF Working Dog Championship!
Lara Croft vom Roten Sturm
Socialization
Born in 2018 out of Race Further Moor and Jim vom Roten Merlin. Lara is being socialized for the time being, and is in the beginning of her journey into the Schutzhund world.
BIO AND PEDIGREE "coming soon"