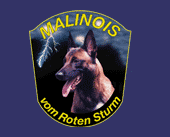 breeding dog:: JIM VOM ROTEN MERLIN
Status: German Import, DKBS, AKC, DNA, HD-A, ED-0, BH, SchH3, IPO 3, National competitor, International competitor, show V,
​
Titles: BH, SchH1, SchH2, SchH3, IPO3, show V
Jim vom Roten Merlin
from November 6th, 2010 to October 23rd, 2019
You are missed, my friend!
4th place at the DVG Nationals
281 points - 96 points in protection!
Jim vom Roten Merlin is born in June 2010. He is a beautiful male of magnificent red color, a dark black face and super strong neck.
Jim is out of Elgoss, PDH, an official Service dog from the Belgiun Police and winner of the hardest hitter dog competition at a reality match in 2007 in Wellen - Belgium. His mom is Fritzi vom Parchimer Land, SchH3, IPO3, FH. Fritzi was shown on Regional, National and International level. On her first IPO 1 trial she scored 100 points in tracking, , 100 points in obedience, and 100 points in protection -"a perfect score"!
Jim has a solid temperament, is good with people, dogs and kids. In his kennel he is territorial. His 100 pound rubber mate was his favorite toy for a while. We had to remove it from his kennel. He took it into his mouth and shook it like a rag doll against the kennel. When he tried to take it inside and manged to do so, we decide it was time to go.
Jim is a male full of live and attitude. He is totally confidence, you can feel his presents. He is a very strong male and is very quick. He has good, full and calm grips and is a very tough dog. He hits hard and loves the fight.
Jim remarkable working attitude, performance, work ethics, make him a fantastic working dog. He has a full and powerful grip when he engages to bite and crushes the sleeve.
Jim also has superb food drive. He empties his bowl in seconds. When we go tracking he gets excited - there is food involved!!
​
Jim loves his toy's. No more soft toy's- they are to fast shredded!! He goes out with his ball now. He loves to run and fetch them, or he just loves to play ball with himself. It is to funny to watch him play!
Jim's puppies exhibit super drives. They have tons of pry drive. they love toys and have a natural instinct for the bite work. The puppies show in a very early age excellent potential to do the work. His puppies are of good size, are very strong, and good looking.
Jim is line bred in the 5th generation on Elgos du Chimin des Plaines, G'Vitou des Deux Pottois and Miki des Deux Pottois. Jim's grandfather is the famous Lupano's Duke. You can find names like Robbyfarm, Berlex-Hoeve, Tourbiere, Greifenring, Loewenfels in his pedigree.
Rick's Jimmy's pup "Capo" all grown up - enjoying Dock diving!
Richards Jim/Race pup Buckwheat doing his Malinois thing :)
Our Faye Jim / Chilli girl enjoying bitework!
Basia's boy Iron, not quite one year of age, just beautiful - mini Jimmy!