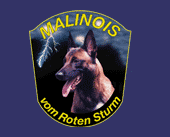 breeding dog:: Demon z Eskorty, aka Doe Doe
status:: SKJ, FCI, HD-A1, ED-0, Spondy-0, SDCA1-N/N (free), SDCA2-N/N (free),
titles: BH/VT, IGP 1, IGP 2, IGP 3
We are yet another time blessed with another beautiful soul of a Belgian Malinois import.
I absolutely adore our Doe Doe.
He is about everything you can wish for and more.
He is a gentle, but powerful male. He is highly driven. He is so much fun to have around.
His happiness makes me smile on a daily base.
​
Doe Doe is Hardy's new competition male.
Doe Doe's working attitude is wonderful. He loves to go training.
His tracking is super nice.
After Hardy's 5th knee replacement surgery recovery on his left leg, we will work with Doe Doe towards the DVG National Championship!
Doe Doe is a very powerful and strong dog in the work. His willingness to please and his strong working attitude makes it fun to bring Doe Doe out onto the field.