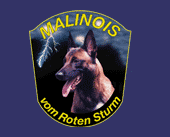 breeding dog:: Matapalo Asco
Status:: DMC, AKC, HD-A1, ED-GF, Spondy-0, LTV-0, SDCA1-T/T , SDCA2-T/T, BH
Asco has adopted to live in the USA. He gets along with the other dogs and loves his daily routine.
​
Hardy and Asco starting to become a team. They enjoying working with some of the best in the field and started taking road trips to places.
​
Off the field Asco has a super personality. He is lovable, friendly, handsome and loves to hang out.
​
Born out of Isco du Void de la Bure, Ring 3 and Adana Time vom Mittelpunkt in July 2018. Asco is a beautiful young male, full of energy and full of life.
​
Asco is a very friendly male. He is big and substantial for his age. Asco is highly driven for food and toy's. His tracking is awesome, so is his obedience and protection.
​
We are looking forward to Asco's Schutzhund currier here at Malinois vom Roten Sturm.