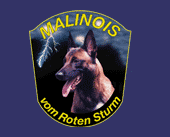 breeding dog:: MATAPALO ASCO --- GONE TO EARLY AND FOREVER MISSED
Status:: DMC, AKC, HD-A1, ED-GF, Spondy-0, LTV-0, SDCA1-T/T , SDCA2-T/T
Titles: BH, IGP1, IGP2, IGP3
Born in July 5th, 2018 out of Isco Du void de la Bure, Ring III, and Adana Time vom Mittlepunkt, a Lupano's Duke grand daughter. Asco received IGP 1, 2 and 3 within 3 1/2 month. Asco is very strong and very fast. He has the right type of attitude and is adjusting well to living in America. Asco is super friendly, but yet protective. He has great working ethics and super foundation work. We are looking forward to a great future for Matapalo Asco here at "Malinois vom Roten Sturm".
​
Matapalo Asco July 5th, 2018 - October 16th, 2021
Asco has adopted to life in the USA. He gets along with the other dogs and loves his daily routine. We absolutely love this dog! His personality is fantastic. He is very protective, but yet super friendly. And did I mention how handsome he is.
​
Since Asco is here Hardy and Asco completed within 3 1/2 month the IGP1 with 288 points, the IGP2 with 289 points and his IGP3 with 263 points at the DVG Nationals in Florida. Asco finishing 15th out of 42 dog teams - as the youngest dog competing at the DVG Nationals with only 2 years and 4 month of age and first time IGP3. So very proud of this boy. Yes, he had a few hiccup's and manage to screw up 2 major exercises in obedience but he showed great attitude towards his work, was happy at all times and showed power.
​
We are very much looking forward to Asco's future as Hardy's competition dog. They are enjoying working together and are growing as a team!
​
​
​
Born out of Isco du Void de la Bure, Ring 3 and Adana Time vom Mittelpunkt in July 2018. Asco is a beautiful young male, full of energy and full of life.
​
Asco is a very friendly male. He is big and substantial for his age. Asco is highly driven for food and toy's. His tracking is awesome. He is a super happy dog in obedience, full of life and full of spirit. His protection is powerful and with purpose. He is strong into the bite, pushes the decoy's, fast to the grip and full of fight.
​
​