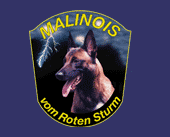 breeding female:: EIKA VOM ROTEN STURM
Status: AKC, DNA, HD-A, ED-0, BH, IPO1, IPO2, IPO3
Eika received her BH - title (Companionship) with 15 month of age. Shy of 19 month Eika received her IPO1 title with an impressive 95 points in protection. At the age of 25 month old Eika received her IPO2 title. Thank you Birgit Falk for working so hard with Eika and achieving her titles.
​
At the age of 26 month Eika received her SchH3 title, 96-91-90 A huge thank you to Birgit for her hard work with Eika and receiving a SG rating of 277 points for Eika's first SchH3 title.
Also, not to be forgotton a big "Thank you" to, Bjoern Jaeger for Eika's decoywork!
Eika is a happy dog, ready to work all times and loves her "Birgit and Bodo". Eika has a ton of ball drive. Her bite work is strong for a young dog. Birgit did a hell of a good job on her foundation and on the training of Eika.
Eika's breeding combines the best out of the parents Jim and Race. We are looking forward to Eika's future here at Malinois vom Roten Sturm.
Eika is line bred on Angie von Greifenring, Orkan Loewenfels, Comtesse vom Roten Falken, Oskar von Loewenfels, Saskia von Loewenfels, Pacha des Deux Pottois.
Eika's pedigree is a excellent mixture of some of the best Malinois Kennels in the world. To name a few: Mecberger, Roten Falken, Loewenfels, Parchimer Land, Berlex-Hoeve to name a few.
Birgit Falk, Bjoern Jaeger and Eika after a successful weekend and hard work earning the IPO 1 title!!