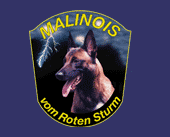 breeding female:: EIKA VOM ROTEN STURM
Status: AKC, DNA, HD-A, ED-free,
Titles: BH, IPO1, IPO2, IPO3
Eika will be bred to Hector vom Roten Sturm, IGP3!
Eika received her BH - title (Companionship) with 15 month of age. Shy of 19 month Eika received her IPO1 title with an impressive 95 points in protection. At the age of 25 month Eika received her IPO2 title and one month later at 26 month Eika received her IPO3 title, 96-91-90 a total of 277 points receiving a SG rating.
Eika is a happy dog, ready to work all times and loves Hardy. Eika has a ton of ball drive and her bite work is strong. Since she loves food, her tracking is super.
Hardy was preparing Eika to take on her dad's footsteps to be Hardy's future competition dog. Due to an accident we decided that Eika will be our breeding female from now on and not competing in the field with Hardy. They still are doing something every day together, just not full body contact sport anymore. In general Eika is a super nice dog with excellent temperament. Just don't mess with her or one of her pups, you will find out that she does have teeth.
Eika's breeding combines the best out of the parents Jim and Race. We are looking forward to Eika's future here at Malinois vom Roten Sturm. We will breed Eika to selective males! Her first litter is doing very well, and her second litter is on the ground right now and are very strong and show much potential with four weeks of age!
Eika is line bred on Angie von Greifenring, Orkan Loewenfels, Comtesse vom Roten Falken, Oskar von Loewenfels, Saskia von Loewenfels, Pacha des Deux Pottois.
Eika's pedigree is a excellent mixture of some of the best Malinois Kennels in the world. To name a few: Mecberger, Roten Falken, Loewenfels, Parchimer Land, Berlex-Hoeve… .