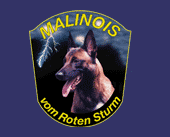 breeding female:: QUINN VOM ROTEN STURM
Status: AKC, Hips and Elbows - A/0
Born in October of 2019 out of Luna Airport Hannover, IPO3 and Maho van de Berlex-Hoeve, IPO3 - National and International Competitor.
​
Quinn is a beautiful red female, with big bones and beautiful structure.
​
Quinn's temperament is happy and outgoing.
​
Quinn's drives are a DREAM .... she has superb food drive and unbelievable toy drive. She retrieves naturally anything back to you.
​
Quinn started in tracking and show super nice nose work. It does help to have fantastic food drive.
​
Quinn jumps about a meter high out of the stand, just because, .... all day if she wants - ... or on the kitchen table in that matter of fact if food or toys are being stored there ...
​
Quinn has a natural ability for protection work. She has extreme toy/jute drive and loves helper chasing. She has a big dog bark as well and know's what to do with it.
​
We are looking forward toward Quinn's future in our breeding program. Super nice puppy!!
​
​
​