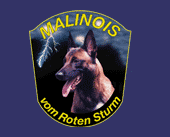 breeding female:: CHILLI AIRPORT HANNOVER
Status: German Import, DMC AKC, DNA, HD-A, ED-free, National and International competitor
Titles: BH, SchH1, SchH2, SchH3/IPO3, Helpers choice 2 x, highest score of 299 points out of 300, show rating SG
Now retired out of the breeding program!
Chilli did well and worked hard, she earned her retirement and is happy to launch on her big pillow and chewing on bones!
Chilli "Bark and Hold at the FMBB Champoinship in Czech Republic
Chilli is born on in November of 2007. She is a big boned, good looking, small to medium size female. Chilli is very strong and a very confident dog. She has excellent work ethics. Her drives are fantastic and her attitude is to be ready at all times. Chilli is our mini Caraq. Whatever Chilli does, she does with heart, attitude, and strength. She is a powerhouse female, and her temperament is a dream.
Chilli has some extremely good dogs in her lines. You can find dogs like Barry von der Boesen Nachbarschaft, Cartouch vom Roten Falken, Elgos du Chimin de Planes, Jorkan de La Chapelle Saint Vincent, Onix vom Lowenfels, Cheyenne des Loupe Mutins and many more in her lines. Chilli is line bred in the 4th and 5th generatin with Oscar von Loewenfels, Atos (LOF), Haddock des Deux Pottois, G'Bibber (ALSH), Erica des Deux Pottois
Hardy and Chilli's competition path:
​
BH- Companion dog title
IPO 1 - high protection
"Pregnant at 4 weeks into SchH1"
IPO2
IPO3 - 296 points
​
2013 - DVG Nationals Eugene, OR
-very strong protection routine-
​
2013 - IPO 3 - 299 points
2013 - AWMA National Championship
-Helpers Choice award-
First time in history of the
US-Schutzhund sport award was given to a female dog!!!!
​
2014 AWDF Championship in Peoria, IL
Chilli and Hardy received for a second time the "Helpers Choice Award" again beating all the male dogs in the competiton!
Fall of 2014 Pregnancy brake for Chilli
December 2014 after just 4 weeks of being of her puppies Chilli and Hardy showing at the AWMA Championship in Mount Dora, Florida " 8th place "
​
2015 - FMBB Championship in Pisek, Prague, Czech Republic
Hardy and Chilli's alternate position became show position - only 3 weeks to prepare. Supper happy with Chilli's work. Tough conditions. Trial started a day early. Really tough tracking conditions, obedience - both Hardy and Chilli, took points away from a nice routine, her bite work rocked. Points do not reflect her great work. We are so proud of her. Would not take any other dog every home than her. Chilli is awesome!! Team overall 3rd Place!!!
​
Retired out of the sport in 2015. She worked hard and loved every second of it. If it would be for her she would continue on ..... . But the sport is hard on them and she deserves to be strong and healthy for a very long time to come, so we decided to retire her out of the sport!
​
COURAGE TEST - FMBB CZECH REPUBLIC
AWDF CHAMPOINSHIP IN PEORIA, IL
Mark's Sura a Chilli/Insane pup all grown up!
Faye, a Chilli/Jim pup all grown!