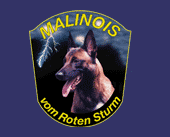 our past breeding female and companion:: ANJA COEUR DE LION
Status: AKC, DNA, OFA Hips Good, OFA Elbows normal
Born in January 2001 out of Odessa vom Rowehaus, BH and Ficco vom Roten Falken, SchH3, national competitor. Anja was a beautiful over medium size female in deep red. Anja had a fun personality and was extremely stable. She loved people and dogs, small or tall. Only a few times would she go off at someone and later it turned out that person was no good. So we started to trust her judgement.
Anja had many puppies during her breeding cycle. She had big litters each time. She produced very powerful police K-9 dogs. They had excellent scent work and were powerful protection dogs. The obedience was there, but nothing for the big championship, but excellent for the police work.
​
Anja's bio from the past:
Born January 28, 2001, out of Odessa vom Rowehaus first litter, Anja is a beautiful red-mahogany female with a black mask. Her father is a National competitor in multiple Schutzhund organizations, and Regional SchH III Champion for the Southeastern Region in the United States.
​
Anja was the result of a very carefully planned breeding that allowed me to capture everything I hoped for: drive, beauty, power, and temperament. She is a very high-drive, prey-oriented female with a fun temperament, and very "explosive" in her work. Anja is the full sister to Ando Coeur de Lion.
​
Anja's dad, Ficco vom Roten Falken, is a son of the famous Oskar Löwenfels (SchH III, Körung 3). Oskar is a brother to Onix vom Löwenfels, who was owned by Anke Höpkin. Onix was shown on the German Championship, Malinois Championship and World Championship. In his last year as a working dog, he finished first in the DVG Championship. He had several front places in F.C.I. World Championship (3/5/9) as well as in DVG Championships throughout his career.
​
Anja's grandmother is Saskia von Löwenfels. Saskia is a dog which earned her SchHIII and IPO III title, as well as her Körung III. You also will find Saskia in Shiva Airport Hannover's pedigree.
​
On her mother's side, Anja goes back to Athos vom Hexenmoor—a very powerful and beautiful dog. Athos was a Kolos des Deux Pottois grand grand son. Kolos, SchH III, IPO III, Ring II, Körung III, V rated in work and beauty, himself was a son of the legendary Malinois G'Bibber.