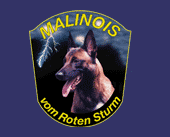 current litter - page 2 ::
Zoja Extra Temperament, aka Zara bred to
"Goose" aka Monty Extra Temperament on December 24, and 25, 2021!
​
Zara delivered 10 strong and healthy puppies on February 23rd, 2022.
5 boys and 5 girls!
​
Puppy pictures below!
​
"Goose"
Monty Extra Temperament, IPO3
Both dogs are very stable dogs of superb working quality. They have very high toy drive and food drive.
​
This combination should produce dogs with commitment to the work with a ton of play drive and very high food drive, and they will be very fast. They will have right amount of willingness to work, and the hardness we desire to withstand pressure and fight. They will be strong and healthy puppies with good temperament.
​
"Goose" competed with time successfully on a National and International working dog events. They both traveled the USA and Europe for their working dog endeavor. They had the privilege to be on 4 World Championship teams. In 2016 Tim and Goose place # 11 out of a 140 dog teams at the FCI World Championship in Slovenia. He also was the 2017 New England Regional IPO Champion and multiple times this team took the 4th place at the AWMA National Championship. Goose is a stable dog with excellent temperament, very good looking and is very strong.
​
Zara arrived early December 2020 in the USA. I really like her. She is a fun, happy dog with a ton of play drive. Her ball drive is crazy and her food drive over the top. Zara also has a wonderful temperament! She was ready to go when she arrived. She is a beautiful over medium size female with beautiful dark pigment and a dark almond shaped eye! Her favorite game initially was to collect all the sticks she could find to drop them on the front porch. Thanks goodness we do not have that many sticks laying around, lol. Now, she just loves to play ball and will lay in the grass waiting for me to play with her. She really took well to us and living in the USA!
​
Zara fits right in our place and our breeding program!
​
If you are interested in one of the puppies of our upcoming litters please contact us for more information.
call
Sabine @ 571.643.2107
Hardy @ 571.643.1213
or
Zara puppy pictures from March 4th, 2022 below!
More coming soon!