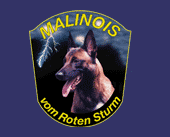 current litter - page 2 ::
Please check back with us!
​
If you are interested in one of the puppies please contact us for more information.
call Sabine @ 571.643.2107 or
Hardy @ 571.643.1213
or
Luna Airport Hannover, IPO3
Half sister of
Chilli Airport Hannover, National and International competitor - FMBB team member, Helpers choice at AWMA, AWDF
​
​
​
Mother to Mark Saccoccio's Hector
Race vom Further Moor, IPO1
​
Race is the sister to Raty Further Moor the 2014 FMBB World Champion. Her father is the 2010 FMBB World champion!
Faye vom Roten Sturm, BH
-soon to be IPO1-
daughter to Chilli Airport Hannover, IPO3 (2x Helpers choice award) and Jim vom Roten Merlin, IPO3
Super nice upcoming young female, just like Mommy Chilli, fast, hard, tons of drives!
​
Pups out of her first litter (bred with Maho van de Berlex-Hoeve) turning out really nice,
super nice working dogs!