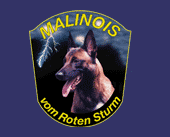 current litter - page 2 ::
Both dogs are very stable dogs of superb working quality. They have very high toy drive and food drive. Zara's ball drive is over the top, so is Aik's. Both dogs are very athletic, jump high and run fast.
​
This combination should produce dogs with commitment to the work with a ton of play drive and very high food drive and the right amount of aggression. They will have right amount of willingness to work, and the hardness we desire to withstand pressure and fight. They will be strong and healthy puppies with good temperament.
​
Zara (Zoja) is a super nice female. She is medium size. Fast, crazy high food drive, crazy high ball and stick drive, and protective is in her nature only when neccesary.
​
Aik is a super strong male. His power in the protection is intense. He has a beautiful obedience. His ball drive is over the top crazy. Same for Aik's food drive, over the top crazy.
​
​
​
​
If you are interested in one of the puppies of our upcoming litters please contact us for more information.
call
Sabine @ 571.643.2107
Hardy @ 571.643.1213
or