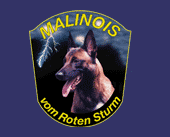 current litter - page 2 ::
Zoja Extra Temperament, aka Zara has puppies with Matapalo Asco.
​
Zara delivered 10 healthy puppies!
​
!all puppies are sold!
CMKU COM, HD-A, ED-A, Spondy-free,
Working titles coming soon!
​
IGP3, DMC, AKC, HD-A, ED-A, Spondy-free
Both dogs are very stable dogs of superb working quality. They have very high toy drive and food drive.
​
This combination should produce dogs with commitment to the work with a ton of play drive and very high food drive, and they will be very fast. They will have right amount of willingness to work, and the hardness we desire to withstand pressure and fight. They will be strong and healthy puppies with good temperament.
​
Asco is a very powerful young male, very high spirited, very high drive, fast and strong to go into the bite and into the man. He is a very happy working dog and his drives make working him fun! Asco got his IGP1 in September, IGP 2 in October and his IGP3 in November at the DVG National Championship in Florida. He was by far the youngest dog in the competition with on 2 years and 4 month of age. We have high hopes for Asco and strongly believe in him.
​
Outside the field he is an easy going dog, very lovable, but yet very alert. If a stranger approaches me inside his kennel he gets very mad and goes into protection mode. I feel very safe when he is around. But he also is a dog we can show off without worries! He is a dog which often gets complements on his looks as well. He has a massive head and chest!
​
Zara is brand new to our facility and arrived early December 2020. I really like what I seen so far. She has a wonderful temperament and shows excellent drives! She made the long trip with no problem and was ready to go when she arrived. She is a beautiful over medium size female with beautiful dark pigment and a dark almond shaped eye! Since she is pregnant we just play with her. Her favorite game is to collect all the sticks coming down from the trees and dropping them of at the front porch. Thanks goodness we do not have that many, lol. Zara's food drive is incredible. She loves balls and toys. My jacket has a new Zara hole since I was just to slow with that ball. She really took well to us!
​
Zara fits right in our place and our breeding program!
​
If you are interested in one of the puppies of our upcoming litters please contact us for more information.
call
Sabine @ 571.643.2107
Hardy @ 571.643.1213
or