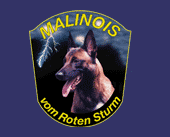 Your new Puppy
​
Watch out "Here I come"
With lots of love, proper nutrition's, tender care, exercise, good training, grooming and regular veterinarian care your puppy should grow up to be a happy, well mannered, healthy and faithful companion.
Take some time and find out a few basic facts about puppy behavior and how to take care of them. You will be rewarded with a beautiful relation between you and your dog.
At the end of this page you will find a list of how to puppy proof your home, with warning about toxic material in house holds.
Supplies
You will Need

You will need to have certain basic supplies when bringing a puppy home. The following item are suggestions we have to help you with your new puppy.
Collar and Leash
Malinois vom Roten Sturm provides all of our puppies with this very important part of your puppy's life , his first collar and leash. Please make sure that you check the collar size frequently, since your puppy will grow very fast out of the one he/-or she is wearing. We start all of our puppies on a lightweight nylon. Later in life you can switch to leather or fur saver. Never leaf the collar around your puppy's/dogs neck during the stay in his/-or her crate. If the collar catches to the crate it could get very dangerous for your puppy.
Crate
Malinois vom Roten Sturm believe that the crate can be a beautiful tool, as well as a "safe" place for your puppy, later dog. The crate will become your puppy's "den", his special place to sleep, stay and go to feel safe. We always recommend to feed your puppy in the crate, so for your puppy it is always a very good place to be. Take food bowl out after eating/or 30 min. We always have a bucket of water in the crate with our dogs.
Introduce your puppy to his crate soon after you bring him home. Always use a command like "Kennel, House, Crate, Den,..." when putting your puppy up. Always give him/-or her a reward (hot dog piece, treat) once entering the crate as well as verbal praise. Try to make entering the crate something positive for the puppy's first few times, let the puppy go in, give him/-or her a treat, close the door, wait a moment until the puppy settles down and than open the crate door again, repeat this game for longer periods of time. Always praise your puppy for going inside.
The location of the crate in your house should allow your puppy to observe family activity's, but your puppy should still feel secure in his own "den" and get some rest.
Your puppy should nap in his crate from the beginning, but never use the crate as a punishment. Always remove your puppy's collar before crating!
Identification Tag
You can purchase an ID Tag at any local Wal-Mart store for a little over $4.00. The ID Tag should have your puppy's name, your name, address and phone number with an area code on it. This tag can make all the difference in the world if your puppy should ever get away from home. You should permanently attach it to the collar of your puppy/dog.
Identification
Please go to the Grooming and Veterinarian care below and read more about different options of Identification. We do offer individual micro shipping on all of our puppies.
Toys
Safe toys are an important part of your puppy's life. Toys will help your puppy learn, exercise, and provide a safe way to satisfy your puppy's need to chew. Make sure to choose toys that are made for puppies and cannot be splintered, torn apart or swallowed. Malinois vom Roten Sturm does not recommend to use tennis balls. They can grind down your dogs adult teeth and you may have a big dental bill as a result of it. Also never play with little bouncing ball, as puppy's/dogs can swallow them easy and may suffocate from a stuck bouncing ball.
If you do have small children, please be aware of that your puppy will see your child's room as heaven, with all toys of the world offered.
Food and Water Bowls
Food and water bowls should be cleaned daily. Malinois vom Roten Sturm cleans all of our food and water bowls in a dishwasher daily. We recommend to have the food and water bowl in a food stand. Always have fresh water available for your puppy/dog.
Food
Malinois vom Roten Sturm puppies grow up on Eagle High Performance and a raw diet (ground beef and/or K9 craving). Chewy.Com carries Eagle food.
Treats
Malinois vom Roten Sturm recommends to give your puppy occasionally treats. You can find a wide variety of treats in your local pets stores. Please be advised that "Greenies" can be harmful if swollowed in big pieces. Pig ears can bring out dogs aggression. We do not recommend feeding pig ears at all, even so dogs love them.
Grooming Tools
Your puppy has been already Introduce to bathing and little brushing. Please keep up the foundation we established for you and your puppy by combing him/- her at least once a week.
Make sure you have the proper grooming tools. We use combs, Rakes, Rubber Brushes and Shedding Blades on our dogs. All of our dogs are maintained by Sabine Ernsting "Professional Groomer".
​