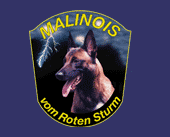 Malinois vom Roten Sturm takes great pride in our puppies. Each puppy is carefully bred. Great care is taken during its earliest stages of development while at our facility. We provide excellent health care, top of the line feeding, lots of love and fun.
​
During this time extensive socialization is provide with children and adults. These outstanding efforts are to ensure a healthy, happy and well adjusted puppy at the time of the shipping/ change of ownership primed to mature into a fantastic Belgian Shepherd Dog.
​
Each puppy will have a package with a board range of literature in it. We provide you with copies of parents pedigree, copies of hip certification of parents, photos of parents and puppies, DNA of parents if available, vaccination and deworming records of your puppy and their next vaccination schedule, feeding instructions, socialization techniques and recommendations, as well as training tips. ​
​
Additionally we will provide you with some treats for the puppy, a toy , small leash and collar and of course some of the food we are feeding our puppies.
All of our puppies will come with AKC registration papers. The puppy will be directly put into your name with the AKC. You will receive from the AKC your registration papers directly.
​
We also provide you with a microchip. When the puppy is a little older you give it to your veterinarian so he/she can insert the microchip into your puppy. We recommend to do at the same time as your puppies Rabies vaccination.
​