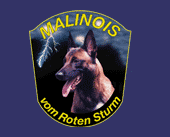 breeding female:: WARI VOM MARINGALAND
Status: AKC, Hips and Elbows - A0
Wari is born in December 2019 out Tulah vom Maringaland, IPO1 - an Orkan Further Moor daughter ( and Da'Eder von der Brunnenstadt) grand daughter and Hector vom Roten Sturm, IPO2
​
Wari is full of life. She is a happy, very outgoing puppy with a excellent disposition.
​
Wari's food drive is super, and she is a toy collector by heart.
​
Wari is being socialized for the time being, started in tracking and obedience and protection.
​
We are looking forward towards Wari's working endeavor and her future in our breeding program.
​
Here is some of Wari's line-breeding in the 5th generation:
Stoned van de Duvetorre 4 / 4
Aika von der Sonne entgegen 4 / 4
Elgos du Chenim des Plaines 5 / 5
Pita ALSH 5/ 5
Klemm vom RotenFalken 5 / 4
​
To also just names a few in t 6th / 7th generation line-breeding:
Kolos des Deux Pottois 7 / 7
G'Bibber ALSH 7 / 7
G'Vitou 7 / 6
​
​