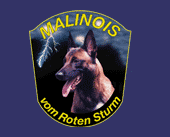 past breeding dog:: ATHOS VOM HEXENMOOR
Status: DMC, AKC, HD-0, ED-free
Athos his bio back in the day:
​
Athos - the ultimate Malinois, where beauty and power was combined. A hard hitting and extreme tough dog with outstanding tracking ability. You will find Athos' lines in the Vom Roten Sturm Malinois.
Athos vom Hexenmoor
​
A grandson of Kolos des Deux Pottois, the foundation male of "Malinois vom Roten Sturm."
Athos was considered one of the hardest hitting dogs with the most commitment in the U.S. during his time.
Comments from three police departments during an evaluation of Athos, quote: "If there would be a competition for a dog that would take the most bullets he would be the one winning the competition and still keep on coming."
​
The poor guy who tested Athos that day had weeks later still bruising from him.
That sum's him about up. Super tough dog!