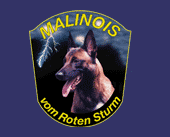 Malinois vom Roten Sturm is the natural result of our involvement with - and admiration of - this incredible versatile breed.
Pando vom Lowenfels was our very first Malinois, now some over 30 years ago! We bought him in the summer of 1990 from Peter Engel with the Löwenfels kennel. The breed was quite unknow at that time. Hardy was looking for a working dog for the Schutzhund sport. So he decided that he wanted a Belgian Malinois for his next dog.
"Obviously we fallen in love with this breed back than, and still love the Belgian Malinois"!
Before that Hardy started in the Schutzhund sport in 1978. Soon after it was very clear to him that he loved the sport of "Schutzhund" (Protection sport). At that point he had a lab mix and later got an Great Dane he titled to a SchH1.
At one point he had bought his German Shepherd dog "Enrico von der Kopperpahler Allee, who he titled to a SchH2. Enrico was 2 1/2 years old when he got stolen from him in January of 1990 out of his kennel.
Pando vom Löwenfels, SchH3
Hardy and his dog "Enrico" in the winter of 1989
​A few years after joining the Schutzhund sport he was elected training director followed by LV teaching helper/decoy.
In 1988 he was elected to be the Regions training director. Multiple times he was selected for LV Championships and pre-selected for the VDH in 1990 as a decoy/helper.
​
Over the years he has worked over 300+ dogs at different club trials as a decoy. Now, due to multiple knee replacements he is no longer doing the decoy work himself, but gives his knowledge to the new coming decoys, and continues his support training dog teams to the top of their field.
​
Over the many years we are doing this sport, and are breeding Belgian Malinois and German Shepherd dogs Hardy has trained and coached hundreds of dogs teams to Schutzhund titles.
We also have provided our private clients with In-Home training, as well as Board and Training programs.
We are still offering our Board and Train programs to our clients.
Over the many years Hardy had the privilege and honor to be on 7 World Championship teams and traveled with his dogs all over the world.
We traveled all of the United States to go to the National Championships to qualify and be part of the World Team.
We put training, time, money and knowledge into our dogs. Talked to hundreds of people, trainers, breeders with experience and knowledge. Visited top notch seminars with the best of the best. Watch hundreds of Malinois with different pedigree's compete. Saw the different temperaments of Belgian Malinois, different lines of Belgian Malinois. Hosted twice the American Working Malinois Association (AWMA) Championship - with the most entries in history. We did hours over hours of research online of the Belgian Malinois and their pedigree's, and so much more....
Caraq vom Löwenfels took Hardy 3x to the World Championship, Chilli Airport Hannover took Hardy to Czech Republic to the World Championship and Jim vom Roten Sturm took Hardy to Germany to the Bundes Sieger Pruefung.
We got married May 24th, 1991.
Our Schutzhund club waited for us outside the church. Our priest was a breeder of Airdale Terriers and trained his dogs in Schutzhund!
Hardy and Chilli at the 2015 FMBB World Championship in Czech Republic.
Years of studying the Belgian Malinois bloodlines, and training them, both in Europe and the USA have led us to an understanding of how to breed the best dog for the sport, police work, search and rescue, PSA, agility, conformation and companionship.
​
Our research and planning has already resulted in litters with a high percentage of outstanding pups. We are well known for our quality, beauty and working ability.
​
We carefully plan our litters. We use only the best. Our litters are sold before their are born.
Our dogs are beautiful animals with outstanding temperament, and super working ability. They carry the pedigree's to back it up.
Sgt. Brian Kyle and his K-9 dog "O-Gideon vom Roten Sturm"
Hardy and Caraq at the 2007 FCI World Championship in Turin, Italy and at the North eastern Regional Championship "Courage test with Tim Karschnak!
Malinois vom Roten Sturm is devoted to producing the best Malinois dogs possible and taking them to the top of their field!
Our life's evolves around dogs!
If you love this breed like we do, we invite you to spend some time on our page!
...reading about our dogs, our breeding program, our puppies, dogs we have for sale, our training programs, puppy care, .....