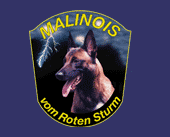 Malinois vom Roten Sturm is the natural result of our involvement with - and admiration of - this incredible versatile breed.
Sgt. Brian Kyle and his K-9 dog "O-Gideon vom Roten Sturm"
Years of studying the Belgian Malinois bloodlines, both in Europe and the USA have led us to an understanding of how to breed the best dog for the sport, police work, agility, conformation and companionship.
​
Our research and planning has already resulted in litters with a high percentage of outstanding pups. We are well known for our quality, beauty and working ability.
Malinois vom Roten Sturm is devoted to producing the best Malinois dogs possible and taking them to the top of their field!
Hardy and Chilli at the 2015 FMBB World Championship in Czech Republic.
Hardy and Caraq at the 2007 FCI World Championship in Turin, Italy
2009 Northeastern Regional Champion Caraq vom Lowenfels and Hardy Ernsting!
If you love this breed like we do, we invite you to spend some time on our page!
.....reading about our dogs, our breeding program, dogs we have for sale, our training programs, puppy care, .....