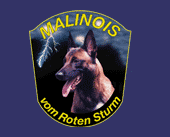 breeding dog:: YORK VOM ROTEN STURM
York is a beautiful young Malinois female out of our Eika vom Roten Sturm. York is our 3rd generation of this breeding-line!
York is very social and outgoing. She has super food drive, and super toy drives. Zara also loves to play with balls.
We are very excited that we kept York and will introduce her into our breeding program when she is old enough. Right now, York will grow up, play, eat and train hard for her titles.
​
You also will find Malinois kennel names like Roten Falken, Lowenfels, van Robbyfarm, des Deux Pottois, Greifenring, Teutones, Forsthaus Augustdorf, van der Berlex-Hoeve, ..... ---with that said she is a perfect fit into our breeding program!
​