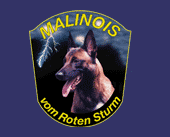 breeding dog:: Faye vom Roten Sturm
CONGRATULATIONS
LORI AND FAYE
TO THEIR IGP 1
Faye received her BH in fall of 2017!
She now has her IPG 1 and is in training for her IPO2 in Fall of 2019!
Good job Lori and Faye!
Faye is a superb working dog with all the right drives. Her bite work is powerful, fast and strong! Just like Mom Chilli Airport Hannover.
​
Faye has super nice drives in the obedience, is fast, and forgiving.
Faye find's herself plenty of time in trouble in mom "Lori's" home. She particular loves that shoes and that purse of hers. It just smells to good. Lately Faye is trying to move out dad Chris out of the house, collecting all of his stuff and dumping it at the front door :) . Just a very happy dog!