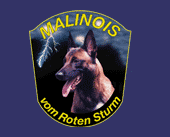 our past breeding females and companion dogs::
Odessa vom Rowehaus
AKC, OFA, DNA, BH
​
Born out of Athos vom Hexenmoor, SchH2 and D'Ardivillier Bianca vom Rowehaus, aka Frenchie in July of 1997 (Hardy's birthday). Odessa was our Athos baby. She was a beautiful dark mahogany Malinois female. Odessa had tremendous drives. She was as fast as the wind and shw was as stubborn as they come. Even tho she had so much drive, what Odessa did not wanted to do, she did not do. This became very evident during her BH routine, since he was refusing to stay down on the long down. No matter what we tried, Odessa said no way. So we retired her out of getting her titles and allowed her to have a happy life without stress. Our Odessa lived to be almost 17 years of age. She was the mom of many puppies and the best mother you can imagen. It was amazing to watch her raise her puppies.
Shiva Airport Hannover
German Import, DMC, AKC, BH, IPO1, IPO2, IPO3, DNA
HD-A, breed survey
​
Born in October 1998 out of Cleo von der Wautz, IPO1 and Klemm vom Roten Falken, IPO3 (multiple World Champion and the most decorated Malinois at his times). Shiva was our very first Malinois from the Airport Hannover kennel. Anke and Dieter Höpken been very good friends of our in Germany for a very long time before we acquired Shiva. Shiva was a fun dog to own. I never forget the first time Hardy meet her. He was on a trip and came home. I picked her up from the Airport. When I let her go out of the crate, unstatt of greeting Hardy she jump on our breakfast table and started spinning - things flying everywhere. Than before I could catch her she jumped of the table to run into the living room to greet more people. She tried using my coffee table as a jumping board, but did not calculate the 2000 piece puzzle I just put together. So, as she jumped on the table the puzzle started flying with her of the table and her foot landed in our friends coffee mug, than his wife's, before she found herself on the floor being leashed surrounded by 2000 puzzle pieces.
Anja coeur de Lion
AKC, OFA Hips Good, OFA Elbows normal
​
Born in January 2001 out of Odessa vom Rowehaus, BH and Ficco vom Roten Falken, SchH3, national competitor. Anja was a beautiful over medium size female in deep red. Anja had a fun personality and was extremely stable. She loved people and dogs, small or tall. Only a few times would she go off at someone and later it turned out that person was no good. So we started to trust her judgement.
Baya vom Roten Sturm
AKC
​
She was Yannick's companion dog as a child!
We never bred her, but she was in our lives 15+years!
Born in September 2002 out of Odessa vom Rowehaus, BH and Old Dominions Xavier, Ring3, regional and national competitor. Baya was Yannick's little girl. She lived to be 15+ years. She gave us so much joy. She was a tough "old bird" - that what we called her in her age.
Kira vom Roten Sturm, aka Sacha
AKC
​
Born in January 2005 out of Caraq vom Lowenfels and Odessa vom Rowehaus. Our old girl Sacha passed on with the age of 16+ years of age. She had slowed down quite a bit. As a young one Sacha was quite the spit fire. She was full of drive and spirit, had her father's drives and her mom's protective instincts. We only bred her one time with Feus Haus Mecki. She had 6 little boys who grew up to be all police dogs, but one. Sadly, during delivery, she injured her uterus and never was pregnant again. Until we meet again old girl, RUN FREE.