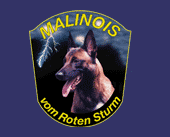 Matapalo Asco --- ! GONE TO EARLY AND FOREVER MISSED !
BH, IGP1, IGP2, IGP3,
DMC, AKC, HD-A1, ED-GF, Spondy-0, LTV-0, SDCA1-T/T , SDCA2-T/T
​
Born in July 5th, 2018 out of Isco Du void de la Bure, Ring III, and Adana Time vom Mittlepunkt, a Lupano's Duke grand daughter. Asco received IGP 1, 2 and 3 within 3 1/2 month. Asco is very strong and very fast. He has the right type of attitude and is adjusting well to living in America. Asco is super friendly, but yet protective. He has great working ethics and super foundation work. We are looking forward to a great future for Matapalo Asco here at "Malinois vom Roten Sturm".
Asco's first breeding is completed with our new girl Zoja Extra Temperament!
BH, in training for his titles
DMC, AKC, HD-free, ED-free, Spondy 0, LTV-0
Born in March in 2018 out of Independent Spirit's Romina, IGP3 and Havatar vom Brunsbeker Land, IGP3, FH, SPr1.
​
Aik is in training to receive his IGP titles. He has a super temperament and is very good looking. Aik is owned by our friend Patty Smith.
We are looking forward having Aik in our breeding program. Aik has a super pedigree and a super attitude towards his work. His obedience is flashy and his bite work is powerful!