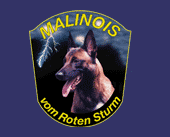 SKJ, FCI, HD-A1, ED-0, Spondy-0, SDCA1-N/N (free), SDCA2-N/N (free),
BH/VT, IGP 1, IGP 2, IGP 3
​
Born inJuly 2017 out of Aramis Red Devils Dog, IGP3 (FCI and FMBB participant multiple times) and Benny z Mandragory, ZZV1. Demon, aka Doe Doe received his first IGP 3 with a score of 290 points out of 300 available points. Doe Doe is very strong and fast. He has the right attitude towards life and work. He is adjusting well to living in America. Doe Doe is super friendly. He has great working ethics and super foundation work. We are looking forward to a great future for Doe Doe here at "Malinois vom Roten Sturm".
Hardy is looking forward to show Doe Doe this upcoming year of 2023. Crossing our fingers for a successful knee replacement revision this coming November 2022.
In training for his IGP titles and BH
Born in September in 2021 out of Malka vom Roten Sturm, IGP1 and Beny Belrott, IGP3.
Little Aron is full of live and spirit. Aron has started his IGP work and is doing superb. He always has full grips and learns fast.
Aron's line goes back to Chilli Airport Hannover, Maho Berlex-Hoeve, Frits Brunsbeker Land, Casper Further Moor.
Aron is a friendly enough dog but likes his space not to be invaded. We are looking forward to Aron's future here at Malinois vom Roten Sturm.