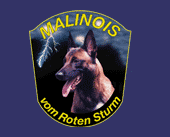 breeding female:: RACE VOM FURTUR MOOR
Status: German Import, DMC, AKC, DNA, HD-A, ED-free
Race is born November 2010 out of Crazy vom Parchimer Land, IPO1, Koerung owned by Knut Fuchs -Vom Further Moor Kennel". Race her grandfather is the legendary multiple World Champion Klemm vom Roten Falken, still the most decorated Belgian Malinois to this date.
Race her brother, Raety vom Further Moor followed the same footsteps with Mia Skogster and went on to win, and became the
​
"2014 FMBB World Champion".
Raety being only 2 years of age at the time. He exhibits the same great attainability, power, drive and willingness to work we desire in the sport and in our dogs.
Race is a great mom. She produce awesome puppies. The puppies are beautiful, strong, outgoing, ready to work, ... . We bred Race to several different males and the outcome is always the same - super nice awesome puppies-! Our goal is to continue to bred Race. She is an awesome dog with an phenomenal temperament.
Race her pedigree has some of the best know Belgian Malinois of the past and now. You will find dogs like Klemm vom Roten Falken, Elgos du Chemin des Plaines, G'Vitou des Deux Pottois, Ayko vom Forsthaus Augustdorf, Robby, Loewenfels, ... in her lines.
​
Race is line bred over Saskia von Loewenfels, one of the best producers of her time. She is also linebred on Oskar von Loewenfels, Orkan von Loewenfels, Erika von Loewenfels and G'Vitou des Deux Pottois.
Race her father "Mecberger Chortoryiski" is a fantastic working dog. He exhibits remarkable working attitude, performance and working efforts. He is very powerful and well trained. Mecberger Chorotoryiski placed several times high up in Regional, National and International Events. In 2010 he won the ultimate title,
​
"2010 FMBB World Champion"
Race herself is a dominant big female with attitude and lots and lots of drive. Genetically she has a full grip and exhibits crazy drives for her toys and for food. Race can entertain herself for hours with her ball, or she goes out and retrieves over and over and over. If we don't stop throwing that ball she will not quit.The hunt drive she exhibits is excellent. Race is a very social dog. She loves to hang out or go on walks, her toy's never are to far away! In protection Race is very strong and powerful. She always engages with a hard full grip without compromise. She loves the fight with the decoy. We love our "Racy", she is a ton of fun to work and play with.