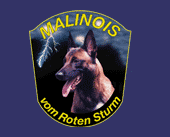 The Malinois breed was developed by the end of the 19th century and recognized by the FCI in the late 1950's. The history of the Belgian Malinois breed is written in multiple books, and our recommendation are listed in related links.
The biographies of the dogs listed below reflex the most recognized dogs in our lines (Malinois vom Roten Sturm)!
Onix von Löwenfels
SchH3, IPO3, RCI3, breed survey, HD-2
​
Onix - brother to Oskar and Olaf von Lowenfels. In 1993 Onix was German Champion in the DHV Deutsche Meisterschaft.
​
Oskar von Löwenfels
Oskar - brother to Onix (SchH) and Olaf (Ring) von Lowenfels.
Here is a SchH score of Oskar himself from March 1989
TR 100 - OB97 - PR 100 = a total of V 297
G'Bibber
​
G'Bibber - was and is a very important dog for the today's Malinois breeders.
Another son of Cartouche, he put his stamp on the Malinois breed in Belgium and France like no other male. He produced multiple working champions like Kolos des Deux Pottois.
​
G'Vitou, aka Varack
G'Vitou - one of the most important producer
​
G'Vitou des Deux Pottois comes from the most important heritage among the working Malinois and carries the prepotent bloodlines of Dick I and Dick II. He sired many important offspring.

G'Vitou call name "Varack" never competed in Belgian ring. He was used for his bloodline and produced many excellent progeny. He was a medium-sized, robust male with a strong head
The most successful working dog of all times, German Champion in 1998 and 1999, World champion for Belgian Shepherds in 2000 and FCI-World Champion in 2000 and 2001. Klemm is the father of Shiva Airport Hannover. Both vice-Champions of the 2000 and 2001 FCI-World Championships are direct progeny of Klemm. Klemm carries the blood of Kolos des Deux Pottois and Oskar vom Löwenfels.
Father of G'Bibber and G'Vitou des Deux Pottois, a very strong, hard, but stubborn dog.
-More biographies of dogs coming soon-