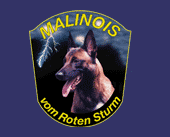 breeding female:: LUNA AIRPORT HANNOVER
Status: German Import, DMC, AKC, DNA, HD-A, ED-free
Titles: BH, AD, SchH1, SchH2, SchH3 (SchH3 with 292 points), breed survey, show V1
Luna is a very joyful dog, always happy and always ready to work. She loves to hang out with us, but more so she loves to chase after that ball, or chew something up. Two of our feather bed comforter been victimized by Luna for sure. Looks like snow in the summer inside your home :). Luna's temperament is solid, you can take her downtown Washington D.C. without problem's, but if you need protection she would be right there.
Luna is a beautiful, large, red female with a great personality. Luna's is the half sister to our Chili Airport Hannover, same mother, different dad. Luna has a ton of drive and is very spirited. She has an incredible ball, tug and food drive. Luna has natural defensive instinct, -you do not just walk into the house-. On the field she keeps our decoy's attentive. You do not pay attention she will get you - good girl-. Luna uses her genetic instinct against the decoys and always shows a full grip on the sleeve.
Luna completed her SchH3 with 292 points out of 300 available. She receive 100 points in tracking, 96 points in obedience, and 96 points in protection! Luna also has done her bred survey over in Germany, and she received a show rating "V" 1 at a National show!
In Luna's pedigee you can find incredible working line dogs from Germany, Belgian, France and the Netherlands. This leaves a wide variety of breeding lines open for us to choose form to produce " Top of the line Working Dogs" with Luna
Luna's line-breeding goes back to Atos (ASH), G'Bibber (ALSH), G'Vitou des Deux Pottois and Oscar v on Loewenfels. You also can find Stoned van de Duvetorro, G'Band de la Virgine, Cheyenne des Loups Mutins, Sorba van Hoveld, to just name a few in her pedigree.
Mike's Luna puppy D'Buster going shopping!