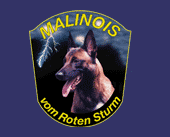 our past companion female "Yannick's dog":: BAYA VOM ROTEN STURM
Born out of Odessa vom Rowehaus, BH and Old Dominions Xavier, Ring3, regional and national competitor. Baya was born in September of 2002. She was Yannick's little girl.
He pick her out of the litter when he was 10 years of age and she was his dog for the next 15+ years.
She gave us lots of joy, and sometimes headaches. But for Yannick she was perfect.
As she aged we called her our tough "old bird" - and that's what she was in age!
​
Baya's bio from way back:
Born on September 19, 2002, is a very deep red female with a black mask. Baya is owned by our son Yannick Ernsting.
Yannick and Baya are still very young in the world of dogs, so for right now they spend most of their time together just enjoy each other's company. If they aren't watching TV together, they are outside playing with each other.
​
Baya and her other litter mates have inherited the beautiful, classic Malinois heads of their grandfather Athos vom Hexenmoor.
​
Baya developed into a very high energy female, with a little stubborn streak in her. She is a very intense female with lots of drive and natural defense.