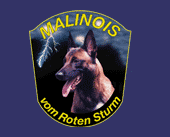 breeding dog:: ANDO COEUR DE LION
Status: Hips A-normal, Elbows normal, AKC, DNA,
Titles: BH, SchH1, SchH2, SchH3
Ando Coeur de Lion, SchH3 (A-litter "Vom Roten Sturm". Born out of Odessa vom Rowehaus, BH and Ficco vom Roten Falken, SchH 3, regional and national competitor.
The best dog we ever could have had. He gave us 16 years of joy, laughter, protection and companionship like no other. He is dearly missed by us!
Ando his bio back in the day's:
Ando is a very handsome dark red/sable male with black mask. He is our family pet and grew up with our two children and friends of this house.
His tracking ability is incredible. Ando has a very high prey instinct and loves to play with his toy's and his ball. In protection he brings a natural defense to the table and is very powerful.
In 2004 Ando received his SchH 1 and his SchH 2 - title, an excellent score in tracking and a high pronounced for his courage and fighting instinct in both trials. Ando received the highest scoring dog trophy during his SchH 2 trial as well as trophies for the best tracking and protection phase. On May 14, 2005 he completed his SchH III-title. Again he impressed the trial judge with his convincing tracking and commitment and power in the protection. The second time in a row Ando received the best protection score.
Now Ando is Janine's (our daughter) dog. Both of them have fun running around, playing and once in a while joining Hardy on the Schutzhund field. Hardy and I could not be happier to have Ando as Janine's best friend and protector.
​
Ando's dad, Ficco vom Roten Falken, is a son of the famous Oskar Löwenfels (SchH III, Körung 3). Oskar is a brother to Onix vom Löwenfels, who was owned by Anke Höpken. Onix was shown on the German Bundes Sieger working show, Malinois Championship and World Championship. In last year's show, he finished 11th in the FCI World Championship and first in the DVG Championship. He had several front places in FCI World Championship (3/5/9) as well as in DVG Championships throughout his career.
Ando's grandmother is Saskia von Löwenfels. Saskia is a dog which earned her SchHIII and IPO III title, as well as her Körung III. You also will find Saskia in Shiva Airport Hannover's pedigree.
​
On her mother's side, Ando goes back to Athos vom Hexenmoor—a very powerful and beautiful dog. Athos was a Kolos des Deux Pottois grand grand son. Kolos, SchH III, IPO III, Ring II, Körung III, V rated in work and beauty, himself was a son of the legendary Malinois G'Bibber.