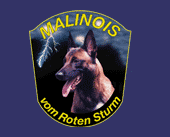 our past breeding female and companion:: SHIVA AIRPORT HANNOVER
Status: German Import, DMC, AKC, DNA, HD-A, National competitor, Wesenspruefung
Titles: BH, SchH1, SchH2, SchH3
Born in October 1998 out of Cleo von der Wautz, IPO1 and Klemm vom Roten Falken, IPO3 (multiple World Champion and the most decorated Malinois at his times). Shiva was our very first Malinois from the Airport Hannover kennel. Anke and Dieter Höpken been very good friends of our in Germany for a very long time before we acquired Shiva. Shiva was a fun dog to own. I never forget the first time Hardy meet her. He was on a trip and came home. I picked her up from the Airport. When I let her go out of the crate, unstatt of greeting Hardy she jump on our breakfast table and started spinning - things flying everywhere. Than before I could catch her she jumped of the table to run into the living room to greet more people. She tried using my coffee table as a jumping board, but did not calculate the 2000 piece puzzle I just put together. So, as she jumped on the table the puzzle started flying with her of the table and her foot landed in our friends coffee mug, than his wife's, before she found herself on the floor being leashed surrounded by 2000 puzzle pieces.
Or I will never forget when our very first down feather pillow from Germany was victimized by Shiva.
I came home from work one day and we always put Ando and Shiva in our bedroom with free range. Well, .... that day did not work out so well for us. As I opened the door to let them go out to potty Shiva greeted me happily with our down feather bed pillow in her mouth, raining down are thousands of feather, poor Ando trying to hide. I could help it but to laugh. I took them outside and waited for Hardy to help me clean up, after all it was his dog making the mess.
Shiva was also a fantastic working female. She had so much heart. She was fast and powerful. Her bite work was powerful for her 50 pounds. She had strong working ethics.
​
Hardy and Shiva had fun during their working day's. After Shiva retired she had some mega fun running around with Ando and the children, or our friends kids.
Shiva's bio back in the day's:
Shiva arrived in the US in February of 2002 with a BH. She completed her SchH I, II, and III within 10 months and qualified for the first Belgian Malinois Championship in Florida.
​
Shiva is out of excellent bloodlines and comes over multiple world champions and German champions. She is a Klemm vom Roten Falken daughter. Klemm is a multiple SchH III German champion, winner of the Malinois Championat and winner of the FCI World Championat; the most decorated Malinois at all times. She is also descended from dogs like Urs von Löwenfels (World Champion) and Saskia von Löwenfels SchH III and IPO III , one of the only females of her time to pass the Körung 3.
​
Shiva also goes all the way back to dogs like Kolos des Deux Pottois (Ring II, IPO III, SchH III FH and Körung 3) and Oskar Löwenfels (SchH III, Körung 3). If you follow her pedigree further back, you will find some of the foundation Malinois legends such as G'Bibber, Clip, and Haddock des Deux Pottois.
​
Shiva is line bred to Oskar Löwenfels (4/4), Kolos des Deux Pottois (4/5), G'Vitou (4/5/5), and Haddock des Deux Pottois (5/5/5).
​
Her power is unbelievable. Her temperament is as sweet as can be (just don't make her mad) and together with Ando she lives in our house. Shiva has tremendous ball and prey drive and loves to work. It is a true joy to have Shiva around, she is always ready to go. I'm very proud to own her. My thanks go to Mrs. Anke Höpken, who bred this wonderful animal.
​
Shiva was bred four times. Three times to Ando Coeur de Lion and once to Caraq von Löwenfels. Every time she produced absolute beautiful puppies, with great personalities and tremendous confidence. The line-breeding on this puppies is outstanding. Dock vom Roten Sturm Shiva/Ando puppy is going to stay with Malinois vom Roten Sturm for future breeding and will carry on Shiva's lines for us.
​