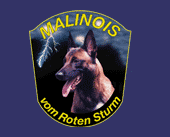 Malinois vom Roten Sturm exhibit only the highest quality in beauty, intelligence, and endurance for any sport activity or work. Our Malinois and our puppies have the best European breeding lines available in their pedigree and they have it by heart.
​
Our dogs and our breeding program have some of the major columns of today's modern working Malinois, and have the greatest working Malinois of the past in their pedigree.
​
We line breed on --"just to name a few"-- G'Biber and G'Vitou des Deux Pottois, Koloss des Deux Pottois, Klemm vom Roten Falken, Cartouch vom Roten Falken, Oskar and Saskia von Loewenfels, Elgos du Chemin des Plaines, Stoned van de Duvertorre,.... .
​
Only the highest decorated stud males are used in our breeding program. they have been genetically proven to produce the drive, hardness, self-confidence and temperament that we want. To name a few males we used for our breeding program: Feus von Haus Mecki (SchH3, IPO 3, FH, Koerung, National competitor), Caraq von Lowenfels, SchH 3, IPO3, FH, International competitor), Ebor ot Vitosha (Sch3, IPO3, International competitor),
Insane van de Berlex-Hoeve (SchH3, IPO3, International competitor), Jim vom Roten Merlin, SchH3, IPO 3, National competitor).
​
Our females are of the highest quality, and out of highly decorated breeding kennels.Our girls come from proven lineages, have very strong characters, are very healthy, and are highly driven. Chilli Airport Hannover is a International competitor and receive 2 x the helpers choice award on National Championships over all the male competitors. Luna Airport Hannover is the half sister to Chilli. She received 292 points out of 300 points available in her SchH3 title. Race Further Moor is the sister to the 2014 FMBB World champion Raty Further Moor. Her dad is the 2010 FMBB World Champion "Mecberger Chortoryiski"
​
​
​
Caraq von Lowenfels at the 2009 Northeastern Regional Championship!