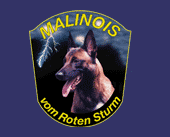 No puppies at this time!
​
Our next litter will be in spring of 2020
with
​
Faye vom Roten Sturm, IPO1 bred to
Hector vom Roten Sturm, IPO2
Faye vom Roten Sturm, IPO1
​
Faye is the daughter of Chilli Airport Hannover (National and world national competitor, twice helpers choice AWMA and AWDF championship)
Hector vom Roten Sturm, IPO3
​
Hector is a son to Luna Airport Hannover and Insane van de Berlex-Hoeve. Luna is a half sister to Chilli Airport Hannover. Luna is V-rated in conformation and in the work. She received her IPO3 with 292 points, as well as bred surveyed in Germany. Insane is a National and International competitor
​
​
Both parents are extremely good working dogs with high toy drive, high food drive, and are very strong in protection work - with extreme speed of attacks in the engagement. They are very stable dogs of superb working quality.
​
This combination should produce dogs with commitment to the work with a ton of play drive and very high food drive. The right amount of willingness to work, and the hardness we desire to withstand pressure and fight.
​
Hector received his IPO1 with 100-98-100, and his IPO2 with 100-96-96. He is schedule for his IPO3 title in April 2020. Many working dog people who have seen him praise him and say that he is one of the best working Malinois out there (quotes from Facebook)
​
Faye is a spitting image to her mom Chilli. She is fast and powerful. Always happy to work, and very forgiving. Faye does have an evil side to her if you piss her of enough. That about sums her up. We will be keeping a male puppy out of this breeding for the future.
All of our puppies come with full AKC registration. We register the puppy for you. The puppy will be directly put into your name and AKC will send you your registration papers! We also send the puppy home with a microchip for your veterinarian to insert at a later time. All of the puppies are several times dewormed before going home and will have their first vaccination given at 6 weeks of age. They are eating 2x per day by the time they are leaving here.
​
Please contact us for any question about our upcoming breedings
You can reach us
​
​
Hardy @ 571.643.2107
​
Sabine @ 571.643.1213
​