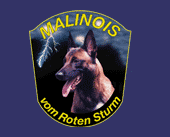 UPCOMING LITTER
Eika vom Roten Sturm was bred to Monte Extra Temperament!
Puppies are due Easter 2022!
​
​
Eika is the daugher of Race Further Moor and daughter of Jim vom Roten Merlin. Race her brother as well as her father are the FMBB working world champions. Brother Raty won the working world champion title in 2014 and Eika's grandfather in 2010. Eika's dad Jim was a super high drive powerhouse! Due to an injury during protection (due to her speed), (now healed) we retired Eika out of the sport. She is a fantastic breeding female.
​
Monte Extra Temperament,
IGP3, Working World Competitor
Monte, aka Goose did very well for himself. He was multiple times on the USA World Championship team for the FMBB. Goose himself is a super nice, excellent temperamented Malinois male. He is very good looking, and his working quality is superb. We love Goose here at Malinois vom Roten Sturm breeding kennel. He has produced a number of outstanding puppies.
Below are pictures of Eika / Goose puppies all grown up!