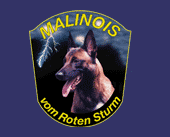 Repeat breeding in spring 2021!
​
Taking deposits now!
​
Pictures of our Eika and Goose babies from last litter at the bottom of page!
​
​
Eika is the daugher of Race Further Moor and daughter of Jim vom Roten Merlin. Race her brother as well as her father are the FMBB working world champions. Brother Raty won the working world champion title in 2014 and Eika's grandfather in 2010. Eika's dad Jim was a super high drive powerhouse! Due to an injury during protection (due to her speed), (now healed) we retired Eika out of the sport. She is a fantastic breeding female.
​
"Goose"
Monty Extra Temperament, IPO3
Goose is a son to Brenda vom Heustadlwasser, IPO and Jaguar Alphaville Bohemia, IPO3, FH2. Jaguar won multiple times the Czech Republic IPO National Championship. Jaguar is V-rated in conformation and in the work. He received 290 points at the CKS Czech Championship. He also was very successfully shown at the FMBB World Championship. His son "Goose", the father of this litter is a National and International competitor well!
​
​
Both parents are extremely good working dogs with high toy drive, high food drive, and are very strong in protection work - with extreme speed of attacks in the engagement. They are very stable dogs of superb working quality.
​
This combination should produce dogs with commitment to the work with a ton of play drive and very high food drive and they will be very fast. They will have right amount of willingness to work, and the hardness we desire to withstand pressure and fight.
​
"Goose" competed with time successfully on a National and International working dog events. They both traveled the USA and Europe for their working dog endeavor. They had the privilege to be on 4 World Championship teams. In 2016 Tim and Goose place # 11 out of a 140 dog teams at the FCI World Championship in Slovenia. He also was the 2017 New England Regional IPO Champion and multiple times this team took the 4th place at the AWMA National Championship. Goose is a stable dog with excellent temperament, very good looking and is very strong.
​
Eika is a super fun working dog female with a strong character. Eika is super fast and powerful during the protection (that how she got hurt) and has never ending drives. Eika's is fast to complete all exercises. She has superb ball and food drive and wants to work all the time. Eika loves her family, but does not need any strangers in her life. Eika is doing very well with her puppies and loves to be a mommy.
​
We are looking forward to this litter. We are expecting super nice working puppies with really nice temperaments. Extremely fast dogs...., very good looking dogs.... . This breeding goes all the way back to the famous Elgos du Chemin des Plaines (line-breeding 6 / 6), Oskar-Saskia-Orkan von Lowenfels (linebreeding 6 / 5) cartouche NVBK (linebreeding 7 / 7) ,Bronco Perle de Tourbiere (linebreeding 6 / 7),.... to just name a few!
​
​
6th/7th generation line-breeding goes back to:
Bronco Perle de Tourbiere
Elgos du Chimin des Plaines
Oskar von Lowenfels
Saskia von Lowenfels
Orkan von Lowenfels
Barbie LOF
Carouche NVBK
Stormy van de Drijvershoeve
​
​
​
​
Here is the link to workingdog.de for pedigree information on the puppies :
​
All of our puppies come with full AKC registration. We register the puppy for you. The puppy will be directly put into your name and AKC will send you your registration papers! We also send the puppy home with a microchip for your veterinarian to insert at a later time. All of the puppies are several times dewormed before going home and will have their first vaccination given at 6 weeks of age. They are eating 2x per day by the time they are leaving here. They are ready to go into their new homes at the age of 8 weeks.
​