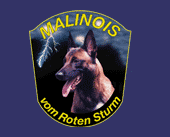 Wari vom Maringaland was bred to Aik vom Heilaender Wappen!
​
Puppies are due April 15th, 2023!
​
Wari is our Hector vom Roten Sturm daughter.
Hector is currently overseas to represent the United States working dog team at the
2023 FMBB World Championship for Belgian Shepherds!
Hector is on everyone's mind right now for his performance, temperament and working quality.
Both parents are extremely good working dogs with high toy drive, high food drive, and are very strong in protection - with extreme speed of attacks in the engagement. They are very stable dogs of superb working quality. They have very high toy drive and food drive. Both dogs are very athletic, jump high and run fast.
​​​
This combination should produce dogs with commitment to the work with a ton of play drive and very high food drive and the right amount of dominance. They will have right amount of willingness to work, and the hardness we desire to withstand pressure and fight. They will be strong and healthy puppies with good temperament.
​
Wari is a super nice female. She is an over medium size girl with a loving personality. Wari are very fast. Crazy high food drive, and crazy high ball, is in her nature.
​
Aik is a super strong male. He is extremely powerful in all 3 phases. His food and ball drive are over the top. Aik's obedience is stunning. Very beautiful to watch him work. His power in the protection is intense. Decoy's absolutely love working him.
​
This breeding goes back to some pretty awesome dogs and kennels in Europe. Here are a few of them: Brunsbeker Land, Independent Spirit, Daneskjold, Airport Hannover, Devetorre, Greifenring, Drachenherz, Deux Pottois, Lowenfels, Haus Mecki, Berlex-Hoeve, Further Moore, Brunnenstadt.
​
The puppies are linebred on Klemm vom Roten Falken in the 5th generation.
We take great pride in our puppies. Each puppy is carefully bred. Great care is taken during its earliest stages of development while at our facility. We provide excellent health care, top of the line feeding, lots of love and fun.
​
During this time extensive socialization is provide with children and adults. These outstanding efforts are to ensure a healthy, happy and well-adjusted puppy at the time of the shipping/ change of ownership primed to mature into a fantastic dog.
​
Each puppy will have a package with a board range of literature in it. We provide you with copies of parent's pedigree, photos of parents and puppies, vaccination and deworming records of your puppy and their next vaccination schedule, feeding instructions, socialization techniques and recommendations, as well as training tips. ​
​
Additionally, we will provide you with some treats for the puppy, a toy, small leash and collar and of course some of the food we are feeding our puppies.
All of our puppies will come with AKC registration papers. The puppy will be directly put into your name with the AKC. You will receive from the AKC your registration papers directly.
​
We also provide you with a microchip. When the puppy is a little older you give it to your veterinarian so he/she can insert the microchip into your puppy. We recommend to do at the same time as your puppies Rabies vaccination.
​