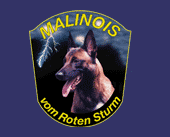 breeding dog:: AIK VOM HEIDLAENDER WAPPEN
status:: DMC, AKC, HD-free, ED-free, Spondy-free
titles: BH, IGP1, in training for IGP 2 and 3
Aik is a beautiful substantial male. He is very powerful in everything he does.
He loves taking walks in his woods and loves carrying his sticks or ball for hours.
Aik is a very social dog.
​
Aik lives to work.
He is a dream dog when it comes to his drives. Everything he does he does with power and with drive (at times a bit to much drives). He is very committed. He is extremely powerful in the bite work!
Aik is being prepared by his owner Patty Smith and her trainer Hardy Ernsting for his IGP 2 and 2 title and hopefully will by the end of this year compete at the DVG National Championship!