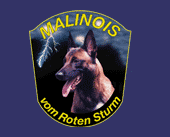 breeding female:: RINA VOM ROTEN STURM
status: AKC, in training for IGP
Rina's Pedigree coming soon!
Rina is born in June 2020 out of Faye vom Roten Sturm, IPO1 and Monte Extra Temperament, aka "Goose" IGP3
​
Rina is being raised, loved, handled by Laura. Thank you Laura for taking such good care of our girl and giving her a lovable home.
​
Rina loves people and her brother Dart (a big German Shepherd)
​
Rina has a ton of drive. You named it .... food, toy, prey, .....
​
Rina has excellent natural grips during bite work as well.
​
We are looking forward towards Laura's and Rina's journey. Can't wait to see how she will grow up and how she will mature.